For your perusal: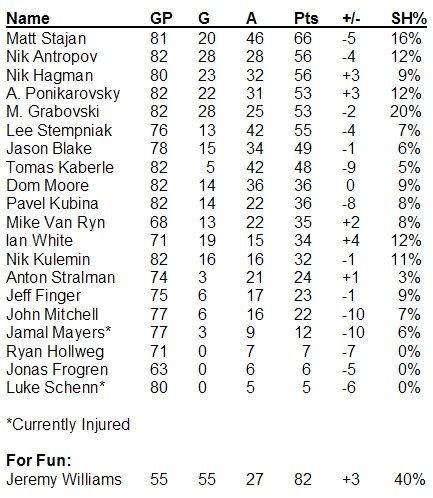 Average Time On Ice:
Matt Stajan: 16:35
Nik Antropov: 17:22
Nik Hagman: 18:06
Lee Stempniak: 18:46
Alex Ponikarovsky: 15:28
Mikhail Grabovski:17:27
Jason Blake: 16:20
Tomas Kaberle: 23:50
Dominic Moore: 15:38
Pavel Kubina: 20:42
Mike Van Ryn: 19:50
Ian White: 17:30
Nik Kulemin: 14:33
Anton Stralman: 15:51
Jeff Finger: 21:44
John Mitchell: 11:47
Jamal Mayers: 9:50
Ryan Hollweg: 6:20
Jonas Frogren: 14:13
Andre Deveaux: 7:05
*Matt Stajan's pace has been slowing as of late, expectedly, and one can anticipate that Nik Antropov or Nik Hagman will lead the team in point scoring this year.
*Balancing point totals and +/-, at this pace Nik Hagman will be the Leafs' best all-around forward . Alex Ponikarovsky has also been quietly having a great year 5-on-5.
*One stat that really stood out: the +/- for the Leafs' fourth line players (Ryan Hollweg, John Mitchell, Jamal Mayers). The fourth line has been defensively detrimental despite limited ice-time. I think that reflects poorly on John Mitchell. I feel Mitchell should be with the Marlies playing more minutes rather than wasting his time alongside the likes of Hollweg and Deveaux. He's got the potential to be a 30-40 point, two-way third line center.
*A credit to the Leafs' by-committee offense: the Leafs are tenth league-wide in the goals-per-game category, yet lack a player that's likely to reach the 65 or 70 point plateaus.
*Tomas Kaberle and Pavel Kubina's +/- figures aren't overly surprising. I've been a bit perplexed as to why Ron Wilson has been adamant about pairing the two, it's a defensive-zone disaster waiting to happen everytime they play together.
*Kaberle's -9 (all +/- numbers are current) would be the worst of his career. Contrast these last two years (-8 in 07/08, -9 so far in 08/09) with his +/- figures in '02/03 and '03-04 (+20 & +16). Then take a glance at his offensive numbers post vs. pre lockout (39, 47 & 31 pre, 67, 58 & 53 post). The rule changes have predictably benefited his offensive game but clearly ruined his own-zone game. His defensive positioning this year has seemed particularly amiss. Kaberle's stock is only falling… I'd try to sell as soon as possible if I was Burke.
*Ian White's season is shaping up nicely. The GP projection for him will likely be off as White appears to have nailed down a line-up spot now going forward.
*Nik Kulemin is the least played of the Leafs' top 9 forwards at 14 and a half minutes a night.
Anything else stand out to you guys?