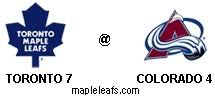 It was a game that was circled with a red marker on the calendar, for the Maple Leafs. They would travel to Denver to meet the Avalanche, but this visit had a different feel to it; a different aura. It was potential revenge for ex-blue and white-ers, and similar revenge for a team that struggled the last 3 seasons.

Andrew Raycroft would be eagerly greeted by the Toronto shooters, looking to do to him what he's done in return the last 2 seasons, while Darcy Tucker looks to do what he does best and prove what they've been missing. It would be similar to a reunion party with all your ex-girlfriends/boyfriends; everyone looking to make the other jealous and rub every inch of it in their face.
Toronto's first goal featured an interesting looking line of Grabovski, Kulemin, and Antropov; a line that was tried in Wednesday's practice and utilized in the game; a line that paid dividends immediately on a sight that surely made every Leaf game smile as Grabovski fed the wide open Antropov in front of Raycroft. He then moved from one side to the other, hesitating on the shot, leaving Raycroft sprawling around as if to make a snow angel before stuffing it behind him to make it 1-0 early. The goal was also Antropov's first in 16 games, his last coming on December 20th when the Leafs routed the Penguins 7-3 in Pittsburgh.
The first goal on Toronto had nothing to do with Toskala, and cannot be blamed on the pinching Luke Schenn. Blake circled back to cover the point as lucky Luke looked to make something happen, and seconds later, the covering Blake moved to the left hash marks. The play turned the other way, and Toronto was immediately caught on a 2 on 1 that lead to the tying goal; a goal that surely would have been challenged had Blake committed to covering the point instead of cheating for a goal.
Toronto's second goal comes only a few minutes after the nifty deke goal that Hejduk squeezed past Toskala. It was another slump breaker, as Grabovski slid in his 13th goal on the year, and first in 11 games. Kulemin was out there again and was robbed on the initial shot. These two were nothing short of spectacular, while Kulemin was showing signs of the player we all know he could very well be in the not too distant future.
Toronto's third goal featured a former Avalanche, Jeff Finger, scoring against his former club with an absolute bullet from the blueline. Who feeds him? None other than Nikolai Kulemin, and why not? He's already having a fantastic night, why not add to it. Oh, it just happened to be Finger's first goal since December 1st. Another scoring drought destroyed.
Seconds later, Hejduk jumps back on the ice, and performs a wrap around that absolutely embarrassed Toskala, unless he once again classifies it as "one of those games" as he has become notorious for stating all season long. It was then that the Leafs believed they had to make something happen. It was also then that Raycroft decided to make sure nothing happened as he leaped side to side, up and down, reaching, kicking, and stopped about 7 shots in a matter of 15 seconds. I thought Colorado would pull the former Leaf just to give me a break and a pat on the back.
On to the third period, where the "quarterback sack" is put to good use by Colorado, as a long shot hits Finger in the gonads, and leads to a goal by the Avs to tie it up at 4. Then Jason Blake jumps on the ice and continues his 3 game goal scoring streak, and now has 6 in 6.
The controversy steps into play as Ryan Smyth skates down the ice for hard pressure, and tries to step away from Toskala, who was out of position, out of the crease, and shaken out of play by a weak nudge from the right knee of Ryan Smyth. The goal that ensued was immediately waived off, and Smyth was thrown in the sin-bin for goaltender interference. It was the first time I have seen Toskala laugh out loud at another player, while Smyth cursed and screamed "shut up!" in return like a couple of grade school students fighting over the monkey bars.
And then, it happens, "The Fall of Raycroft".
Stajan nets his first after going through the motions of slumping once he shook off an eye injury. Blake then assists on a goal by Moore and adds to his scoring streak with a 3 point night.
Raycroft suffers a defeat of 7 goals at the end of the night.
Jason Blake continues to be the better Leaf player in the last month.
Ryan Smyth shot the puck at the official after the Leafs' 6th goal in frustration over the questionable call that worked out in Toronto's favor.
Toronto was forced to outscore their opponents as Toskala allowed another 4 goal night.
Luke Schenn put down the hammer on Ryan Smyth and added to his hitting lead among NHL rookies.
Blake now with 35 points in 44 games. He's on pace to at least earn most of the money committed to him this season. He's headed for a 60+ point season, and is close to matching his year end total (69) he had in the final season for the Islanders.
It was a night that broke slumps left and right, and took the monkey off the back for many of the regulars. The win is good news for players that need to produce in order to improve their worth on the market, it's also good for those who wanted to "stick it" to former teammates, but it is bad news for the standings department, although the extra two points will likely do little to put Toronto's bottom 5 draft position in jeopardy.
The Leafs will now travel back home for a Saturday night appearance (seems like forever) against the Pittsburgh Penguins. The Pens look to seek revenge from their 7-3 suffering to the Leafs in late December.
It will be a game I will be liveblogging on The Score, so for those who will not be around the tube for it, you can follow along with me on the mobile, or join me here for a great game, and great hockey discussions.
The Leafs snap a 4 game losing streak, and are now 3-6-2 in their last 11. They will look to carry the goal scoring back home, where they have been less than decent as of late.
We can all thank Raycroft for being who we all know he really is, tonight.
Micheal A. Aldred
michealaldred@hotmail.com