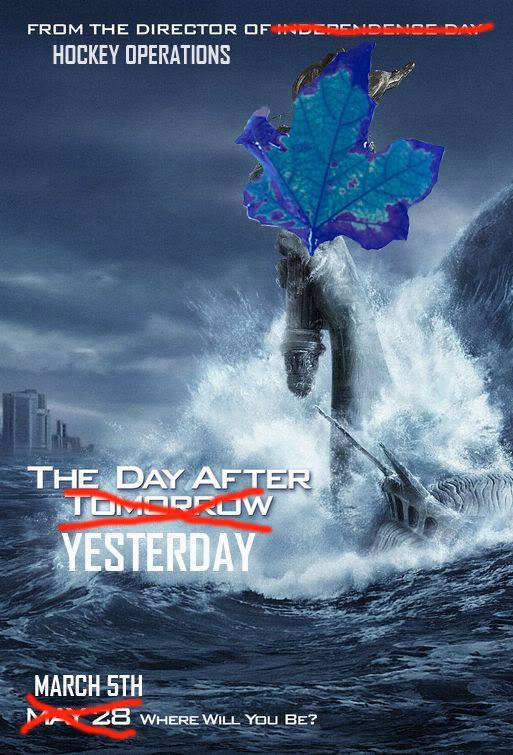 "The Day after Yesterday" (the prequel to "Day after Tomorrow"). These two things have a lot in common. Millions of people watched it all unfold, hoping the guy in the lead role could do the impossible and save the day (it didn't happen, the world still froze over and the Leafs still don't have a second 1st round pick). There was a serious injury that needed medical aid (Toskala's hip/groin, and Laura Chapman's blood poisoning). And everyone was running around frantically once they found out about the strange phenomenon (Guy 1: "Hey look, a giant tsunami!" Guy 2: "Who cares, Andy Wozniewski was traded!" Guy 1: "You're right! That's far more bizarre.")

Which leads us to today, the sequel. The trade deadline has passed, everyone was rescued, and father and son reunite (Quaid/Gyllenhaal, and Leafs fans' fathers and sons stating "well then, that was disappointing"). Oh, I forgot, there's also the relation of movie goers also stating "well then, that was disappointing".
"The Day after Yesterday" kicks off with fans still discussing the yester-festivities. People are curiously seeking answers on the "conditional pick", which Alec stated was a 4th if they make the playoffs and a 3rd if the Rangers somehow reach the Eastern Conference Finals (another rare phenomenon. "The Day after Never Gonna Happen". Buy the trilogy on DVD!) Others are wondering if Martin Gerber is going to get the start tonight. Well, (SPOILER ALERT!) he will. They also wonder if Erik Reitz will play his first game tonight as a Maple Leaf (SPOILER ALERT!) he will (Jonas Frogren and Tim Stapleton have been demoted).
But it wasn't necessarily these moves that surprised people the most. Toronto now has a goaltender who is capable of carrying the club the rest of the way, and another stay at home defenseman who isn't afraid to mix it up (even if he does somewhat fight using the Belak-rabbit punches). Burke felt the team needed one more offensive forward to fill the void so he signed 31 year old free agent forward, Jeff Hamilton, who has 53 points in 50 games for the AHL's Chicago Wolves this season. Will he start tonight? TSN says "more than likely".
It may not be a total shake down, but the Leafs will ice a much different team for tonight's matchup with the Washington Capitals. Although he was unable to deal off a guy like Kaberle or Kubina, Brian Burke still managed to make a splash at the deadline. He acquired 3 picks, and bought a 4th rounder for 500K. He shut down Toskala for the year, brought in a more physical depth and replaced Dominic Moore with a cheaper forward to finish off the season.
In his press conference, he stated "I don't believe it's right to ask a guy to waive his NTC". I agree Burke, that's why it will be better to trade them come draft day when you don't have to ask. Kubina and Kaberle's NTC's have a contractual "freebie" clause that will automatically lift them from Draft Day to August 15th. In that time, Burke can do whatever he chooses to do without asking either of them to waive.
The Leafs have replaced most of the picks they dealt and still have the ammunition necessary to make a splash on draft day to jump up a bit or acquire secondary first-rounders. If anything, Burke has the Leafs exactly where we all hoped they would be, despite our clouded dreams. No need to be upset at the Leafs not getting a first round pick – only Jokinen was believed to be worth one this season, and Antropov is no Olli Jokinen.
Now the Leafs travel to Washington to battle the Capitals with a weaker team in terms of scoring power, but a stronger team in terms of grit. Gerber looks to prove he is still capable of being a number 1 goaltender, so don't expect a blow out. Hell, I wouldn't be surprised if Gerber posted great numbers for the rest of the season. It's a fresh start for him and there's no pressure. At this point, what goaltender wouldn't want to play for the Leafs right now? (Besides Justin Pogge).
It's the day after tomorrow, and we're in America's Capital, and the only way the Leafs will win a cup is if the world somehow freezes over. Everything is normal, once again.
Micheal A. Aldred
michealaldred@www.mapleleafshotstove.com