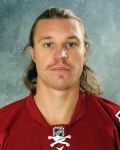 JUSTIN POGGE (# 29) – G
Player Facts
Birthdate: April 22, 1986
Stargazing: Taurus
Hometown: Fort McMurray, Alberta
Size: 6-3, 204 lbs (team listing)
Catches: Left
Acquired: Drafted by Toronto in 2004 (3rd round, 90th overall)
Cap hit: N/A (plays in AHL); $683,333 if recalled to NHL
Signed through: 2008-09 season
FA status: RFA after 2008-2009 season
You May Not Know This, But …
Pogge was a model for Bootlegger during the summer of 2006
Shared an apartment with ex-Marlie Robbie Earl
Classic rock fan; counts Kiss, Led Zeppelin, and The Rolling Stones among his favorite bands
Did not start playing hockey until he was 10
His mother credits him with saving her life – while she was pregnant with him.  This is seriously an amazing story; check the comments below for how you can read it.
Scouting Profile

Strengths
Pogge is a big goaltender whose large frame fills the net.  He has a quick glove and good lateral movement for a big man.  He handles the puck well in passing situations, and can poke-check with the best of them.   Pogge is aggressive and when his game is on, he will play near the top of the crease and cut down shooting angles with ease.  Pogge is extremely confident and can easily shake off a bad goal, or a bad game.
Weaknesses

There are a couple of concerns with Pogge's game.  His major flaw is rebound control.  Although he is very reliable when handling the puck, he needs to control the amount of rebounds he allows to bounce back into the slot.  Pogge is also sometimes a bit too impatient in net. He has a tendency to get overaggressive, coming too far out of the goal leading him to be susceptible to rebound goals, or dropping into the butterfly far too early and exposing the top of the net.
Career Notes
2003-04
Posted a record of 17-18-2, with a 2.83 GAA and .900 SV% with the Prince George Cougars during his first WHL campaign.  Was drafted in the 3rd round of the NHL Entry Draft by the Toronto Maple Leafs.
2004-05
Traded to the WHL's Calgary Hitmen midway through the season, Pogge finished the year 24-21-5, with a 2.50 GAA, .907 SV% and 6 shutouts.  In 12 playoff games, he was 7-5, with an excellent 1.94 GAA and .928 SV%.
2005-06
In his final Junior season, Pogge compiled an incredible 38-10-6 record, with a 1.72 GAA, .926 SV%, and 11 shutouts. His playoff numbers (7-6, 2.54, .911) were once again solid.  He delivered a spectacular performance in the 2006 World Junior Championships: a last-minute invite to training camp, Pogge quickly earned the starter's job and went undefeated in the tournament (6-0-0), allowing 6 goals and posting 3 shutouts en route to Team Canada's gold medal victory.
2006-07
Pogge's first season with the AHL's Toronto Marlies was inconsistent, as he struggled to adapt to the faster Pro game against more experienced shooters.  He finished 19-25-2, with a 3.03 GAA, .896 SV% and 3 shutouts.  After a tough first half, his numbers improved dramatically during the latter stagies of the season.
2007-08
Pogge's second AHL season was a marked improvement on the first, as he found a comfort zone en route to posting a 26-10-4 record, with 4 shutouts, a 2.34 GAA and .908 SV%.  He appeared in only 4 playoff games however, as coach Greg Gilbert decided to go with the hot hand in Scott Clemmenson.  Nevertheless, Pogge recorded a 1-1 playoff record during 2 starts and 2 relief appearances, posting a 2.09 GAA and .918 SV%.
2008-09
Pogge has earned several NHL callups this season, as the rebuilding Toronto Maple Leafs try to ease him into NHL action.  Playing behind a poor defensive Leafs squad, Pogge has posted a 1-3-1 record in 5 games, with a 3.94 GAA and .855 SV%.  He has also struggled somewhat in the AHL this season (20-17-4, 2.77 GAA, .893 SV%) behind an inconsistent Marlies squad.
From The Grapevine
The most common questions heard around Ricoh Coliseum these days are "when is Pogge going to make it the the NHL?" and, of course, "what's a Pogge?".  Pogge has done just about everything he can do at the AHL level, shy of winning a Calder Cup for the Marlies.  Those who attend Marlie games regularly rave about his confident play in net, and his ability to bounce back from shaky NHL call-ups to provide solid play for the Marlies.  Nothing rattles this kid, I am told.  Rather than getting down on himself over his difficulties thus far at the NHL level, Pogge instead uses those experiences to motivate himself to become a better player.  Marlie and Leaf observers alike have been duly impressed by his growing maturity, his willingness to accept being sent back to the AHL without complaint, and his candidness about the areas of his game in which he needs to improve before he can earn a starting role in the NHL.
Notable Quotables: Leafs' goaltending coach Corey Hirsch
On Pogge's NHL potential …
"It's Toronto, and Justin was built into the Next Coming, and that's not fair. So much of goaltending is from the mental side, and maturity plays a huge role in that, and where Justin is actually at in his maturity, we don't know. But we know he has the potential to be a good goaltender."
(National Post)
Notable Quotables: Maple Leafs' coach Ron Wilson
On giving Pogge some starts this season …
"He's a young goalie. He needs to develop, he needs to play.  Because he's right in our own backyard we can get him some games and experience in the NHL as well."
(Toronto Star)
On the advantage of Pogge's size …
"When he is in a butterfly, all he has to do is move two or three inches. "
(Associated Press)
On the dangers of rushing a young goaltender into the spotlight …
"I don't want Justin Pogge to be what Carey Price is today, a shell of himself."
(The Fan 590)
Notable Quotables: Justin Pogge
On GM Brian Burke's comments that he has done nothing to earn an NHL job …
"It's the truth.  If this was a playoff race, you don't want to be throwing a young guy in there. I'm happy to get a shot. I'm just fortunate for the situation."
(Toronto Star)
On what he has learned from his NHL experiences thus far …
"I've learned that you've got to be a little more patient than I was – flopping around like a fish."
(The Hockey News)
On his track record of early struggles followed by prolonged success …
"I have never had anything work out right away for me, ever. I have always had to work at it … I feel that I have been getting better."
(National Post)
On the long road to the NHL …
"Everyone's different. Sidney [Crosby]'s an exception. He probably could have played in the league at 16. He's just one of those players. A lot of guys, including myself, need a couple of years just to mature. The body's gotta grow, and your head's gotta grow too. You've got to be ready and mature enough to get to the next level."
(Toronto Star)
Video Highlights
Justin Pogge and Robbie Earl show off their apartment for Leafs TV.
http://www.youtube.com/watch?v=oqpO6I_yWY4
Justin Pogge lampoons the Nick Lachey AXE commercial
http://www.youtube.com/watch?v=DOvDCxWKGLY
In My Humble Opinion
It is far too early to tell whether or not Justin Pogge will be the long-term answer in goal for the Toronto Maple Leafs.  Certainly, he will be given every opportunity to stake his claim for the job.  It would not be unrealistic to expect him to be the Marlies' starter in the AHL playoffs, and to earn the backup role behind Vesa Toskala on the NHL club next season.  It is, however, unrealistic at this point to expect this kid to be the savior of the Leafs' franchise.   He has much to learn and should not be rushed – or pressured – into a starting role before he is ready.  Patience is a virtue, and patience with Pogge – on behalf of the management, coaches, and fans of the Toronto Maple Leafs – is what will lead to his best chance for success.  Pogge's strong work ethic and terrific self-confidence give him the potential for a very bright NHL future.  If Pogge continues to work on his fundamentals, and maintains his excellent attitude toward the game and his future as a Leaf, he has a very real shot at becoming the Leafs full-time starter in net by the 2010-11 season.
garrettbauman@www.mapleleafshotstove.com