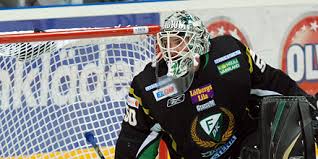 According to Swedish sports newspaper Aftonbladet, the Maple Leafs are frontrunners for the services of Farjestads goaltender Jonas Gustavsson as the 24-year-old sets his sights on crossing the pond for the '09/'10 season.
In 42 games this season for Farjestads, Gustavsson posted an impressive regular season stat line that includes a 1.66 goals-against-average and a .932 save percentage. In the playoffs, Gustavsson tore it up to the tune of 5 shutouts, a 1.08 GAA and a .961 SV% en route to a SEL championship (12-1 playoff record). His form this season has also earned him an appearance for Team Sweden in international competition.
According to the newspaper, Leafs' goalie coach Corey Hirsch has been in regular contact with Gustavsson and his agent attempting to secure his services for next season. Hirsch, having played a few bouts over in the SEL during his playing career, is said to be a well-known name in the Swedish hockey market, which is no doubt playing in the Leafs' favour as they attempt to import some netminding support for next season. We've seen a few instances in only a small period of the new management era the benefits of having estimable names in the front office of your hockey club (thinking the Bozak, Hanson and potentially now Gustavsson signings). We've also seen the incidental advantage of a roster lacking depth in talent. Gustavsson, like Hanson and Bozak, is said to be attracted to the opportunity to immediately challenge for significant minutes in Toronto.
Turning towards the European market for some goaltending help isn't uncharted territory for Burke. He hit a homerun a few years ago in his signing of Jonas Hiller out of Switzlerand, who has posted solid numbers on split duty in Anaheim this season. It's clear Burke and co. have a similar vision for Gustavsson, who Bill Watters reported today on Leafs Lunch as having broken a number of Henrik Lundqvist's former records in the SEL this season. The comparisons to Hiller may not end there, as both are sizable 'tenders that fill a lot of net.
The struggles of both Justin Pogge (at the NHL-level) and Vesa Toskala this season have no doubt necessitated a move for some between-the-posts support for next season. Toskala needs a stronger push than he received this season in the form of a ramshackled CuJo and Pogge doesn't appear to be up to the task just yet. Gustavsson's goalie coach has been quoted as suggesting his student's achieved as much as possible in the SEL from a personal stand-point. He's certainly an intriguing prospect with a lot of upside, and if Burkie gets his man, hopefully we'll see him take the next step in a Leaf uniform.