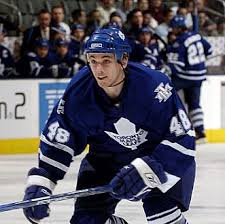 I'll be answering a question or two every few days to fill time and space while we wait for the dog days of another playoff-less spring to wane away. It should also give each topic it's due deliberation as opposed to throwing a series of topics at you guys at once. Today's topic: The UFA-eligible Jeremy Williams.

Q: "Do you think Jeremy Williams is a player the Leafs see value in?
He obviously can score goals but they never seem to give him an extended look."
-Rang
A: The casual observer has to be mystified as to why Jeremy Williams has been continually refused extended stays with the big club after witnessing the hot streaks of goals he seems to post immediately following a call-up opportunity. The shoulder injury came at an unfortunate time for Williams this season, but he seemed to be familiarly slipping into a lull after an impressive start in late December. He had posted zero points and was a -3 in the three games before he sustained the shoulder injury that would sideline him for the whole of January. Williams then filed another minus performance in his first game back from injury and was promptly returned to the Marlies for the remainder of the season.
Brian Burke and Ron Wilson made it no secret that they wanted to see more from Williams on the defensive side of the puck, even when the Saskatchewan native was stealing the headlines after 5 goals and 7 points in his first six games with the Leafs in late December. For all of his goal-scoring prowess, the downfall of Williams' game dating back to junior has been a lack of defensive commitment. Williams is a streaky goal scorer, so the problem seems to lie in the fact that when he's not scoring, he's not doing much else. He isn't particularly big or physical, either. Wilson and Burke hold the benchmark high when it comes to defensive expectations, so the prospects aren't good for Williams' future in the Blue and White if he doesn't show a newfound sense of commitment to his own-zone responsibilities. As one would expect, Williams doesn't produce if he's not given prime ice-time, and doesn't seem to this point able to pass as a competent bottom 9 player if the role is asked of him.
Among many interesting decisions facing Burke this off-season is whether or not to offer Williams a new contract as the 25-year-old is set to walk this July 1 as an UFA VI. Unlike Grabovski, who is also 25 years of age and has been signed to an NHL contract for three or more seasons, Williams hasn't appeared in more than 80 games during his 3+ year NHL career, thus qualifying him for unrestricted free agency. Remember, this is a player that Burke allowed to pass through waivers in January, seemingly not overly concerned about the real possibility of Williams being claimed. Personally, I don't think it's time to give up all hope on Williams, but he is after all a 2002 draft pick, and the front office's patience is no doubt running increasingly thin. If Burke can grab a one-year flyer on Williams, he may do so to see if Williams can respond to a last opportunity in '09/'10, but I don't think Burke or Wilson see enough value in Williams as a complete player to commit to anything beyond that.
In a way it may seem like a no-brainer to ink Williams to a cheap contract for a couple years, but Burke isn't exactly the type of GM to give a player second and third chances if he feels the player doesn't fit the mold and long-term direction of the franchise. Term and salary will also factor in, as affordable as the contract might be. Burke won't want to be hooked for a couple seasons paying any amount of salary for a player that's no longer with the organization (in the event that Williams is sent down, recalled, and claimed on re-entry waivers). Of course, there's the possibility that Williams feels his chances at sticking in the bigs could be better elsewhere and wants some form of guarantee that he'll receive an extended shot in T.O. before he puts pen to paper, which wouldn't impress Burke.
Still, there's always the haunting fear that Williams would join the long list of hidden gems that have slipped through the fingers of this franchise. On the balance, I find it tough to argue that the risk outweighs the potential reward. The biggest issue here may be where Williams is at in terms of his desire to stay in Toronto. Regardless, let's turn this over to you guys.