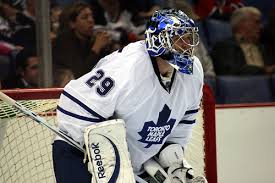 Sportsnet is reporting that the Maple Leafs have extended a qualifying offer to goaltender Justin Pogge, thus making him a restricted free agent. The team now has the ability to match any offer sheet Pogge receives, or choose to decline to get draft picks as compensation.
Today's 5pm qualiying deadline saw a few interesting young players hit the UFA market: D Steve Eminger, LW Dan Fristche, C Marcel Goc, RW Anthony Stewart. Eminger has a boatload of talent, while the three other names may make for intriguing bottom six forward possibilities.
Also of note, veterans LW Peter Schaefer and D Jay Mckee have been placed on waivers by their respective clubs with the anticipation that they will be bought out. Mckee, one of the league's perennial top shot blockers, may be a good fit as a veteran leader in the locker room and steadying presence on the blueline should Kaberle and/or Kubina be shipped out during the offseason.