PART 1 – GETTING THE JOB DONE
PAGE 1
It is the middle of training camp and the team on the ice has not been looking so decent. Brian Burke has been asked to choose between President and GM of the team in order for the club to find a better fit in the front office for a change. He's selected President and you have been hired to take over the general manager duties. Congratulations. The team has decided to throw a staff party in welcoming you to the club.
If you decided to pre-drink before the party in order to kick things off on your right foot, scroll to PAGE 2.
If you show up and thank everyone for the opportunity, scroll to PAGE 4.
PAGE 2
Congratulations once again. On your way to your meeting, you bumped into Garth Snow and informed him of the good news. He tells you he's on his way to this "like totally sick party with tons of hotties man" and you should "like totally hang with." You do, and you've successfully taken this picture.
The team was unimpressed by your "wicked ass" picture and has decided to reinstate Brian Burke before you even made a paycheck. Scroll to PAGE 3.
PAGE 3
You're fired.
The End.
PAGE 4
Everyone is having a great time. You're communication skills around the room is making you a social butterfly. Everyone is optimistic you can get this team to the playoffs.
Except that guy on the far right of the near table. He's yawning over your hockey-memory story because he hates you for taking the job he felt he deserved. His name is Frank.
Frank finds you by the punch an hour later. He approaches you to ask you questions over what you feel would be the first move to make for the betterment of the club.
If you drank too much and this entire party is actually a dream sequence while you're passed out on the side of the road after your night with Garth Snow, scroll to PAGE 5.
If you tell Frank you secretly have no hockey knowledge and are just in here for the money after taking advice from your long-time buddy (JFJ)Â who urged you to apply for the job, scroll to PAGE 6.
If you discuss your intentions at a minimal using the old "I'll wait to evaluate the team before making any rash decision," scroll to PAGE 8.
PAGE 5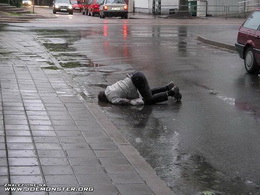 You probably should have gone to that staff party instead. Cheer up though, because Snow has asked you to "tag along dude" and promises you "the ugly ones."
Scroll to PAGE 3.
PAGE 6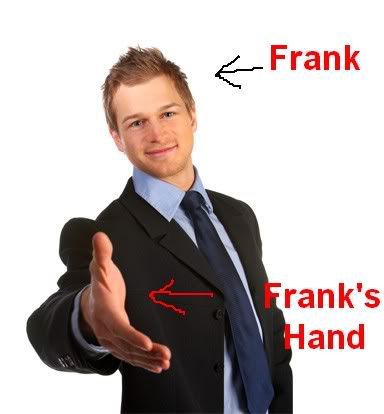 Frank is not afraid to throw you under the bus. He suggests you make an offer to UFA Mats Sundin for a 3 year deal at $8M per season with a full NMC. He claims a fantastic kid playing in the European league by the name of Aki Berg would be a "hell of a free agent acquisition" and that the "door of opportunity to bring back Jonas Hoglund, the scoring dynamo" is closing.
If you believe every word he says, scroll to PAGE 7.
If you ignore his babbling, scroll to PAGE 8.
PAGE 7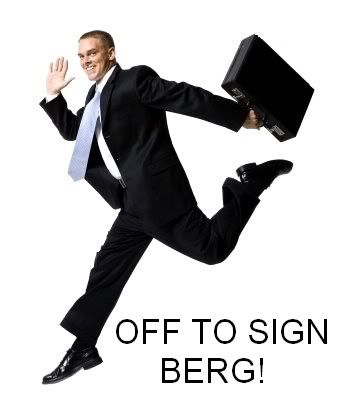 You rush to the back of the room, running out of breath by the time you get there. You're tugging on the back of Brian Burke's suit to get his attention. He's caught off guard that you're panting on him and touching him funny, when really you're just trying to keep yourself standing. You're asked what is so urgent and you inform him of your intentions. He stares at you with no expression for 6 minutes. He realizes you're not kidding and makes a hand gesture to the back of the room. "I was afraid this would happen," he says as two large gentlemen, each wearing an ear-piece, "gently" escort you out of the building.
Scroll to PAGE 3.
PAGE 8
It's been a long night and you decide to head home so you can get an early start in the morning. Tomorrow night is the last game of the Leafs pre-season schedule and you want to be rested to focus on the immediate problems that could be addressed by either a quick trade or simply shuffling players internally.
For now, your job is safe. But tomorrow is another day.
End of Part 1. Stay tuned for Part 2 – Play Dirty
Micheal A. Aldred
michealaldred@www.mapleleafshotstove.com