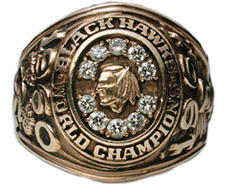 While many didn't predict the Blackhawks and Flyers to be in the Stanley Cup Finals, there are plenty of historical facts that may prove the hockey Gods have decided this would be the match-up for the Stanley Cup before the year even started.
The last time the Chicago Blackhawks won the Stanley Cup was in 1961 against the Detroit Red Wings. In order to reach that feat, they had to first defeat the Montreal Canadiens. Forty-nine years later, the Flyers had to defeat the Canadiens to reach the finals. While it was the original six, it seems a bit coincidental that in 2010, the final 8 teams would include all three of Montreal, Detroit and Chicago.
In 1961, the previous occasion the Chicago Blackhawks reached the Stanley Cup Finals was in 1944, 17 years prior to their last cup championship. In 2009, the Blackhawks reached the final four for the first since 1992, but were unable to get past the Detroit Red Wings, the very team they beat for the championship in 1961. One year later, the Blackhawks are in the Stanley Cup finals, but had to defeat the San Jose Sharks to reach that feat. The Sharks coincidentally had to defeat the Detroit Red Wings to reach the final four.
In their last cup glory, the Chicago Blackhawks defeated both the Montreal Canadiens and the Detroit Red Wings in 6 games. This post-season, Chicago defeated the Nashville Predators and the Vancouver Canucks in 6 games through their first two rounds, matching the two rounds they played in 1961 that both ended in 6 games.
The 1961 Stanley Cup team would also feature two notable athletes in Chicago's history – Bobby Hull and Stan Mikita. Bobby Hull was twenty-two years of age at the time, while Stan Mikita was just twenty-one. In 2010, both Jonathan Toews (twenty-two) and Patrick Kane (twenty-one) will be making their playoff debut.
The only way the hockey Gods could make it even more obvious would be if the Blackhawks won the Stanley Cup in six games, and the scores of each game ended as such:
Game 1: 3-2 Blackhawks. Game 2: 3-1 Flyers. Game 3: 3-1 Blackhawks. Game 4: 2-1 Flyers. Game 5: 6-2 Blackhawks. Game 6: 5-1 Blackhawks.
We'll find out soon enough.
Other Articles:
Foxie Moxie Interviews Bettman – Cartoon Video
Habs/Flames Set for 2011 Outdoor Game
Flashback – 1975 Flyers and Bruins – Video
Micheal A. Aldred