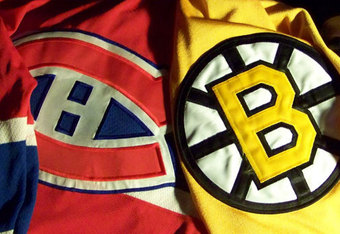 What a first round! As a hockey fan, you have to be pleased about what is currently happening around the best sport in the planet. 4 Game sevens, a ton of OT action and the best quality of the play one could possibly imagine. As a Leafs fan you have to be glad about the Habs being knocked out.
I'm not below giving the Canadiens their due credit. Following Halak's departure and intense scrutiny Carey Price proved he was up for the task. The series win eluded him but with a .934 save percentage and a 2.11 GAA he truly was the Canadiens' best player. His technique seemed perfect at times and I have to say that despite Halak's amazing performance last year, I now believe that Montreal made the right choice with Price. Michael Cammalleri didn't have the best regular season in the world, but with 10 points in seven games he has more than earned his paycheck. He has also proven to be one of the best playoff performers in the modern day NHL with 32 points in 32 games played so far which of course means he's clicking at a point-per-game in the postseason. Only Jonathan Toews and Daniel Briere have impressed me more during that clutch period. One last thing, we can dislike PK Subban for being cocky, but the truth of the matter is if he was on our team we'd love him. Arrogant? Yes. Mouthy? And then some. But is he effective? Very.
All that said, the Habs are out and we can rejoice. Boston proved they had indeed learned something from that historical loss to the Flyers last year. After hiding in a foxhole for most of the series Nathan Horton came up huge when they needed him most. 3 goals in the last 3 games, two of them OT game winners, one series clincher. With a plus 29 and 26 goals in the regular season I'd say he's worth every penny. Tim Thomas was good. Although not displaying Vezina form, he stopped all he needed to stop and ousted Carey Price and the pesky Canadiens. On a side note, 43 year old Mark Recchi became the oldest NHL player to score a goal in a Game 7.
In the other game featured last night, The Lightning needed seven games to finally get one over the Pittsburgh Penguins who had a truly memorable season. Missing Sidney Crosby, Evgeni Malkin, Matt Cooke the Penguins fought valiantly but excellent coaching from Guy Boucher and an exquisite Lightning powerplay proved too much for Fleury and company. GM Steve Yzerman is owed a good deal of credit for this win. Getting Eric Brewer (5 points in the series) and Dwayne Roloson (.949 save percentage and a 1.77 GAA in the series) proved vital for a big Tampa win.
LEAF LINKS:
Vintage Leaf Memories shares his playoff memories
PLAYOFF LINKS:
Canucks GM Mike Gillis fined after complaints on the officiating prior to Game 7, Globe and Mail has the story
Bruins exorcise demons after a big win in game 7, Bruce Arthur with his thoughts
Roloson makes 36 saves in a shutout victory against the Penguins, courtesy of THN
Montreal Prepares for havoc, Sportsnet brings you the latest in crowd control
Your say:
Do you give the Habs credit for the way they fought in this series? Did this season prove Carey Price is the real deal? What were your expectations prior to the Penguins vs Lightning series?