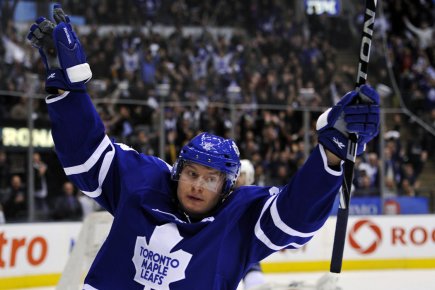 A story in the Toronto Sun on Wednesday reported player agent Gary Greenstin was recently in Toronto to discuss a contract extension for his client Mikhail Grabovski. The report, which included quotes from Greenstin and Brian Burke, told us a few things. It sounds like Grabovski likes it in Toronto, just as we hoped, and it seems Burke is not afraid to pass the deadline without Grabovski under contract.
It's possible that latter point is meaningless as far as a contract extension goes given Grabovski's importance to the Leafs' playoff cause, but to me it still conveys more than a little certitude from the Leafs GM that the two sides can come to terms.
The just-turned 28-year-old Grabovski is currently on pace for a 30-30-60 campaign – possibly better if a highly productive January turns into a full-on second half surge – which would neatly follow a 29-29-58 season in 2010-11. It's possible a huge second half of the season could boost his party's bargaining power in ongoing negotiations, but we'll assume he finishes the season thereabouts.
The following is a list of NHL forwards making between $4.25 and $4.75 million, which seems to be the generally accepted range in which Grabovski's value falls:

Grabovski seems to fit this group pretty well in terms of production. He is on the higher end in terms of PPG and lower end of age, so something around $4.5 million would be pretty good value for the organization.
There is hope the Leafs could get Grabo for a little bit cheaper when you consider a couple of factors:
1) More accurate comparisons beyond strictly looking at salary and production rates from the general group of forwards above – centermen aged 26-30 producing around the same rate as Grabo in the last two seasons, which includes Stephen Weiss, R.J. Umberger, Tomas Pleckanec and Rich Peverley. Those four average $3.96 million a season between them.
2) Grabovski wants to remain in Toronto, his North American home where he's rooted his young family, and where he plays alongside his best friend in Nik Kulemin. There's also something to be said about the appreciation a player feels toward an organization that believed in him when his former club wouldn't, and put him in a position to succeed (see: Lupul, Joffrey).
3) What makes Grabovski an odd case is that he's only played 290 games at age 28.  That's less than any of the forwards I've drawn comparison to outside of Leino. This has to work in the Leafs favour more than Grabovski's and Greenstin's; precedent determines contract value, and most agents representing a 28-year-old client can't base much of an argument around potential. But in Grabovski's case, it's possible there is at least a little room to grow yet. His age won't hurt his value, of course, but it could make the prospective deal look better in a year or two if that's the case.
My take – I think $4.25 million over three or four years will be the eventual contract terms that keep Grabovski in Toronto for the foreseeable future.
***
LEAFS LINKS:
Imprisoned Ballard almost sold Leafs to devoted hockey man
Maple Leafs' surprise visit shakes up beer league game
Kessel, Lupul bound to get back on track
Reimer, Gustavsson in sharing mood
Gustavsson or Reimer: who should the Leafs ride?
Grabovski, MacArthur picking up slack for Leafs
Nazem Kadri confident about future despite uncertainty, demotion
Stronger defence pays dividends for Leafs
PPP's Top 25 under 25: #6 Nazem Kadri
The Fourth Period: Kings, Leafs talking trade?
NHL.com: Trade talk, Sid Update
Leafs' playoff odds are up to 75.4%