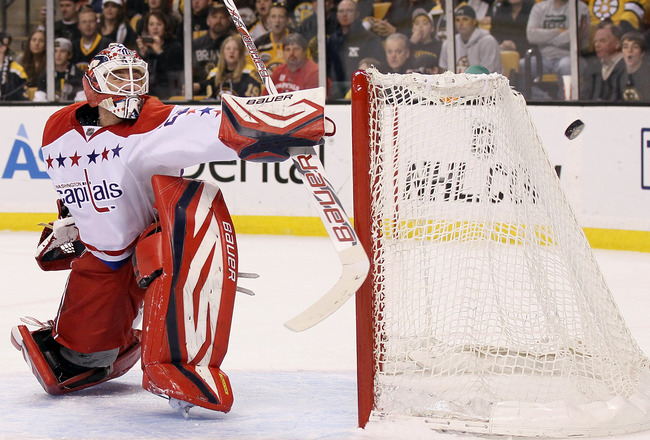 The biggest question mark entering the off-season for Brian Burke and co. obviously surrounds the resolution to the goaltending situation.
Off the top, I'm going to rule out the possibility that Burke sticks with what he's got and allows Reimer and Scrivens to split the duties, hoping one or both becomes a capable number one netminder. I've said it before, but another oversight here and goaltending will be the scarlet letter on the license plate of Burke's ride out of town. It would be a repeat of the Dan Cloutier nightmare for him, except worse as he's cycled through multiple goaltenders and still hasn't got it right despite his declaration from day one in Toronto that he wouldn't fall by the same sword again. Simply put, he's got to enter this season with more reliability and less risk in net, no matter how much potential or depth he may have at the position.
I'm also going to rule out the possibility that Burke signs a merely serviceable veteran. I think a Ty Conklin type only makes the Leaf net more crowded and not necessarily less risky. While things may and very well could change between now and the draft and free agency (in terms of names available), I see Burke as having two options. I'm going to name them the Vokoun option and the Luongo option without discussing at length the pro and cons of each individual – that will be, if it hasn't already, explored ad nauseam.
The Luongo option obviously comes with a considerable long term gamble. It risks hamstringing the club after four or five seasons, even with a backsliding contract it still comes at a considerable cap hit of $5.33 million, and it forces you to make the tough decision as to which one of Scrivens or Reimer you're going to move. One of those two – and Reimer, by virtue of having a contract, being younger and having more NHL experience, is probably it – effectively becomes what you hope will one day be Toronto's Cory Schneider to its Roberto Luongo. But only one, and you have to decide who now.
The Vokoun option on the other hand, while not totally risk free, is not going to haunt you years down the road. He lost the job to Braden Holtby for the playoffs by virtue of being injured, and wasn't spectacularly consistent  in his 48 appearances prior, but did actually post a better goals against average than his last two seasons in Florida and only a slightly worse save percentage. The biggest risk here comes in the potential injury issues for an aging goaltender plagued with a groin ailment. However, he's been a starter for nine years and his numbers are solid – always above league average.
With the Vokoun option you're getting a goaltender best suited for a 50-60 game workload at this stage of his career, and on what could be a one or two year contract. What that means, besides providing ample starts for the younger understudy in the short term, Â is that the future at the position isn't fixed. That could be a big selling point in re-signing Ben Scrivens. You can tell Scrivens to bring his Calder Cup form into training camp and show us he deserves the starts over Reimer, knowing the long term picture isn't already chiseled in stone. And you can carry three goalies and let them make the decision for you, as opposed to picking one or the other and hoping and praying you didn't pick Pogge over Rask.
There's no guarantees either of these goaltenders are realistic options just yet (depends on how interested Burke is in Luongo and how interested Vokoun is in Toronto), but what say you, MLHS? Which option would you chose?
***
MORNING LINKS:

Burke addresses Habs, compensation and Luongo
Burke wishes Dudley well but wishes he could be compensated for his departure. He also says there hasn't been significant conversations over Roberto Luongo.
leafs-could-be-interested-in-signing-tomas-vokoun">Report: The Maple Leafs could be interested in Tomas Vokoun
"Vokoun wouldn't represent a long-term solution in net, but for a year or two he would at least be a short-term answer that could give the Maple Leafs a chance on most nights." Interesting graph included showing Vokoun hasn't dipped below league average numbers since the lockout.
leafs.html">Remembering what it was like when the Leafs were getting ready to play in the Cup finals
An unthinkable idea, isn't it?
The Latest Tamp-Tation of Brian Burke
Danny Gray at The Leafs Nation weighs in on the Justin Schultz situation.