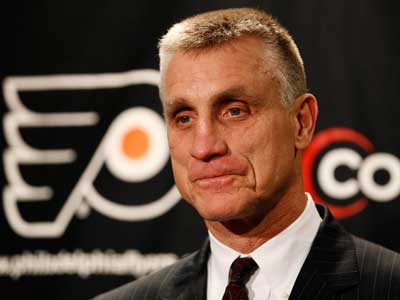 Get ready to hear about nothing but Shea Weber for the next six days. And rightfully so. After inking what will be the biggest contract for a defenceman in league history on an offer sheet with Philadelphia, Weber's The Man in the hockey world right now.
Apparently this whole thing developed after a few attempts at a trade for Weber, in which the Flyers eventually said "enough of that, here's a spaceship full of money."
Now David Poile has to make a decision on whether he wants to basically flatten his team or match the offer. We wanted hockey news, Paul Holmgren delivered, again.
Does this relate to the Leafs? Some fans raised the question about whether Toronto should have been in on Weber as well. As much as the Leafs could use extra help on the blueline, I guess they didn't see it as enough of a priority to go and spend $110 million and four first round picks on. I'm indifferent.
This does relate to the Leafs in that a team in the East potentially becomes more dangerous, while the landscape in the West, and particularly the Central, has changed quite dramatically in the last little while. Did I have the Leafs passing the Flyers in the standings this coming season? No. But you still don't want to see elite players jumping in to your conference.
It's a monstrous move that's given us a lot to talk about until this comes to some sort of resolution. And after the fact, it could pave the way for other big transactions to take place. Hopefully there's some more shuffling soon before I lose my mind thinking about what the Leafs are going to do to fix their own mess.
On to some links
Weber's contract the latest in NHL lunacy (National Post)
"Zone-adjusted Corsi" and the magnificent John-Michael Liles (Cam at TLN)
Paying the right price for goaltenders (Cam at TLN)
Video Post: Yay or Nay to Bernier, Luongo, Reimer (Steve Dangle at TLN)
Should Poile match? (J. Gregor at The Nation)
The Defensive Shuffle (Leafs HQ)
Five Things: Guesswork (FlamesNation)
The failings of the salary cap era (The Collective)
Oilers and Gagner look to be heading to arbitration (C&B)
Have another link? Toss it in the comments. Enjoy the weekend, folks.